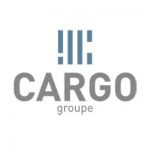 The story of Cargo began in the 1990s in the southwest of France, and made a place for itself in the retail sector thanks to a new turnkey promotional concept. The company grew rapidly and developed its business (trading, retail, distribution), while diversifying its markets and distribution networks.
Company sold in 2015.
Participation: majoritaire 
Activities:
Transformation, assembly and packaging as well as purchase and marketing of all consumer goods.
Leaders:
Frédéric Philippon (CEO)
IXO intervention: 3,2 M€ (IXO-B & ICSO1)
Sales figures: 245,6 M€ (2013)