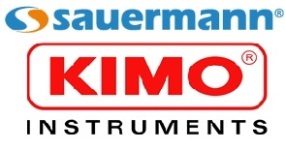 The Sauermann Group acquired the KIMO Group in July 2015. Sauermann designs and manufactures products for the detection, evacuation and regulation of condensate water. These systems are used in air conditioning (70% of sales), heating (20% of sales) and refrigeration (10% of sales). The company generates 70% of its turnover from exports. It has two production sites: one near Paris (80% of production) and one in China.
The KIMO group (KGF holding) specializes in the design and manufacture of air control elements for confined spaces. The company achieves 30% of its turnover through exports, but mainly through distributors. It relies on a production site in Dordogne. It operates in markets as varied as pharmaceutical laboratories, airports, nuclear power plants, the arms industry, the paper industry and the automotive industry.
Both companies rely on a very strong R&D policy. The strategy envisaged is to build complete offers for air treatment (HVCAR market – Heating Ventilation Air Conditioning).
Participation: minoritaire 
Activities:
Kimo designs and manufactures measuring instruments for air control and monitoring. Sauermann designs and manufactures heating, air conditioning and refrigeration systems.
IXO intervention: 5,5 M€ in holding SI INVEST
Sales figures: 61,6 M€ (2020)